Created by Roxy Mathew Koll on 16 Dec 2005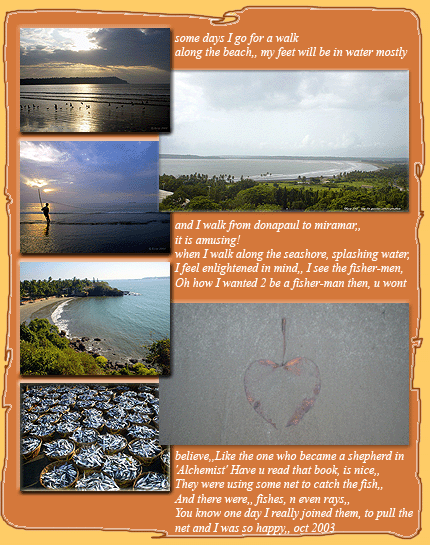 These are photos taken while I was doing research at National Institute of Oceanography, Dona Paula, Goa. Walking along the beach was a craze for so many days and most of the evenings I tried to go for the whole stretch from Dona Paula corner to the Miramar end (1-2kms).. Sometimes some of my friends joined, most of the times I walked alone. You know.. am a lone wolf, I cherish being alone, the time when my self transcend beyond the usual realms of karma.

Every evening there're fisher-men pulling nets, along that strip of beach, and a lot of birds roosting or flying away in unision. There would be some kids playing cricket or football, the mud on their face and clothes adding to the fun of it. Occasionally a boat or so will come back after the day's catch and there would be heaps of fish in several handbaskets.. ready to be carried of to the markets by the women, the fisher-women..

Once or twice I joined them to pull the nets, shouting as they shout, pulling as they pull, laughing as they laugh.. and never ever I had felt so much delight filling in my stomach (ya am a bit different, i feel it in my stomach).. Pulling the nets, I felt like the boy in the Alchemist, throwing away the chains and sucking in the sap of life.
Related posts
6 Responses to "a lone wolf"