Posted by Roxy Mathew Koll on 01 Jan 2006
In Japan you can celebrate new year eve either by jumping into some party or in the much more intricate manner tradition has tagged it. New Year brought a free pair of new underwears for me and that was only cuz I opted for the latter.
Well this is what happened.. I was sitting at my lab as ever, and never dreamt on celebrating it in any ways. and Then my cellphone chimed enchantingly with Tomo's invitation to celebrate new year eve with them. Tomomitsu Minato (Tomo) & family have been home away from home for me ever since my arrival @ Sapporo. Japanese cellphones are intelligent; instantly it mailed him back that I'll be arriving there before midnite!
NewYear rituals @ Buddhist temple
A few hours later I found myself sitting inside their car, on the way to the Buddhist temple at Gakuen Mae. Most japanese accept aspects of both Shintoism and Buddhism and they tend to adhere to the rituals. On the way I could see most of them paying visit to the shrines. Many may have their favorite shrines and the one that I went happens to be frequented by the Minato family.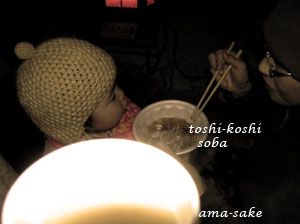 Omisoka, the time leading up to the new year, is one of the most important times in Japan and also means a new start in one's personal life. It was almost NewYear by the time we arrived at the Buddhist temple. "Akemashite Omedeto!" 1(Happy NewYear), we greeted each other with smiles. Then we moved on to where the soba (kind of buckwheat noodles) was served. In Japan, a new year is welcomed by eating toshi-koshi soba. Toshi-koshi means across the year (toshi=year, koshi=cross). The thin long strands of soba reflects the wish for a long healthy life (gee, am not gonna end this horrible saga, it means!). The soba was served free for everyone, hot n yummy. With soba we had ama-sake. ama-sake is sweet hot drink prepared from the remains of sake (liqor made from rice). I didn't like it though
(usually get along with all kind of japanese food
)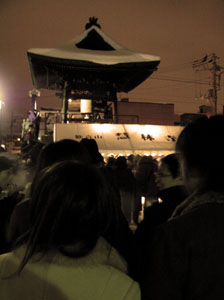 The time we spend outside left us freezing but we braved on to stand in the long queque to the Big Bell. It is one of the most interesting part of the ritual. Ringing of the bell wipes out all the evil spirits and sins from the past year and announces the new life. Waiting in the queue for over 15 minutes, we reached the summit at last; I rang the bell with all might that, no evil spirits even dream of coming close to me in the past or future..
(i know u guys won't be fended off by any of those, but still..)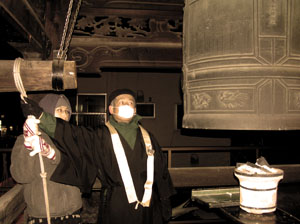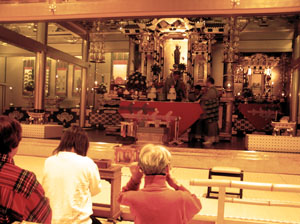 Then we moved on to the main temple, knelt and bowed..
NewYear rituals @ Shinto shrine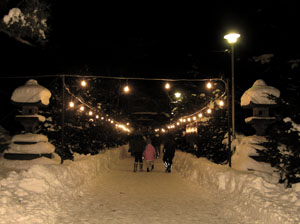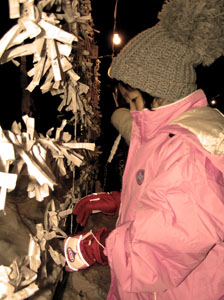 Tomo then took us to the Shinto shrine, 5 minutes drive from there. The facade was pretty with a traditional layout and a small track leading to the shrine. After our prayers, went forward to take the omikushi, the paper slips which tell your fortune. Took one in random and here it is
It says my lot is dai-kichi, meaning am very lucky. "Everything you ought to do you should do as this year is pretty good for you. Be like a sunshine and don't be selfish while everything works for you! Do for others too! And for work, don't worry even if you need to put some money, you'll be benefited.." What else I needed! Well at first I thought everyone got good luck scribbled in their fortune slips.. I was totally wrong. Don't you see a lot of paper slips tied in rows..?? All of them are bad luck cards someone got, nobody wants to take bad luck home! And poor meu-chan, she is also tying her slip, she didn't get a good one. Seems am the only lucky person out here. Oops I forgot, I should radiate my luck to others. Thatz how it works, right?
shower and new Wear @ Japanese home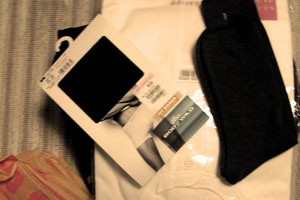 That was enough for the day and we returned to Tomo's home. Everything was ready with a stove warming up the room and a warm cozy bed and the night was calling me inside.. but things weren't supposed to end there! A set of new clothes, tshirt, set of socks n underwear were waiting for me. I was supposed to take a hot shower, cleanse myself of the remaining evil spirits and adorn a new attire so that I have a realistic feeling of the fresh new soul inside me. So off I went to bang off the rest of the demons!
..Thou shalt sleep. I faintly remember a voice from heaven saying that. When I regained consiousness the new rays of the sun was gushing through the trees – through the window – through the curtains, still strong and warming my soul n body altogether. I remember what the fortune slip had told.. I wish the sunshine flows to you, through me, forever.. an everlasting river of love and happiness.
That morning I watched one of the most emotional parts of the tradition, a grand father (Tomo's father; we call him Otosan, meaning father) and grand daughter (Tomo's daughter Mignon, shez 3 years old and naughty) kneeling and bowing to each other and Otosan carrying on the tradition and asking her to repeat "akemashite omedeto gosaymasu. kotoshi mo yoroshiku onegayi-shimasu" happy new year. let us be good to each other this year too.
あけまして おめでとう
Related posts
6 Comments »
6 Responses to "how to spend NewYear in Japan"