Posted by Roxy Mathew Koll on 09 Mar 2011
It was sarah who spotted the bird's picture in the magazine first. We were at the pune railway station seeing off our mom who came to visit us, and we bought this magazine for her to read. Before she boarded the train, sarah skimmed through the pages and one of the images in it looked very much familiar! The indian treepie with its pose and the papaya tree it is perching on, rang a bell! After all, sarah had even made a painting out of this photograph. The magazine had cropped and published the photograph without credits/consent from us.
The photograph which appeared on the magazine: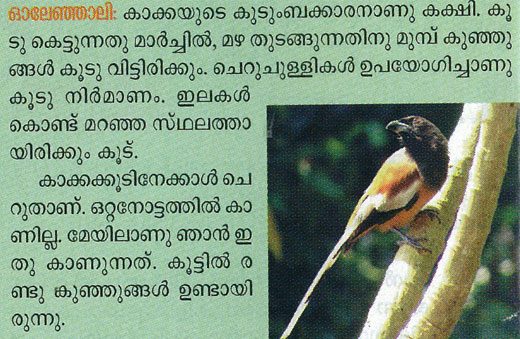 The efforts put into each article and photograph in this website is large. Photographs of birds and other fauna takes a lot of patience and time, and expensive equipments. When a commercial publisher cribs this work and publishes it without consent or credits, it is outrageous. Many of these publishers can easily assign their own photographers to capture original photographs. They could at least buy/request these photographs for their use. Instead, they simply do a google image search, crop off the embedded credits, and publish the images as if they owned it. This is followed by a copyright statement on their publication saying that each and every dot on it is copyrighted and any violation is punishable.
Original photograph of the bird, the Indian Treepie, which appeared in the following articles on our website:
birds of kerala and the indian treepie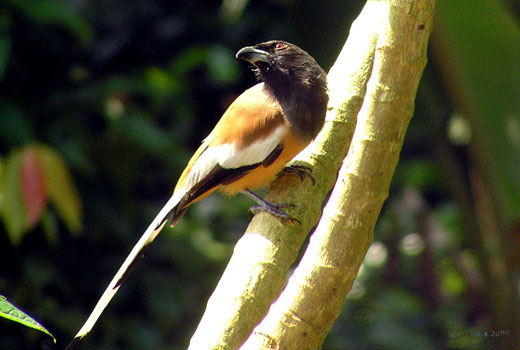 Fortunately, the editorial board of this particular magazine was understanding, and were ready to acknowledge their omissions, and put up a corrigendum in the forthcoming issue. We were not willing to settle for that, and demanded a compensation. The magazine carries a price, and so does each and every content included. Since the editorial board was rational, they agreed on a proposed amount.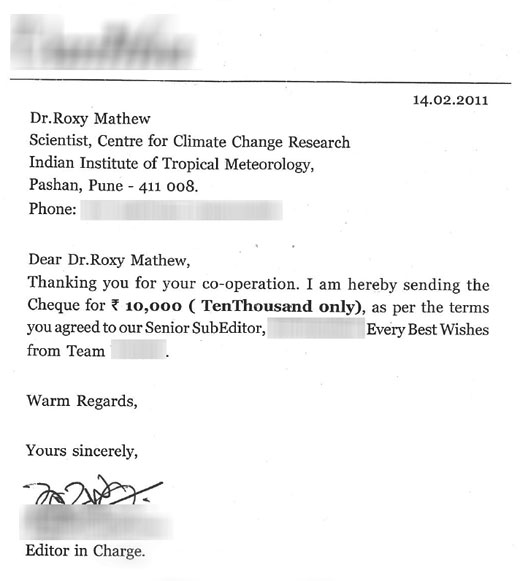 The Indian copyright act includes intelligent property rights (IPR) too, and a copyright violation can be penalized for INR 50,000 ~ 200,000. There had been several incidents where original images from our website were published without credits/consent. A similar incident is listed below in the "Related Posts".
Proverbial note: "A bird in the hand is worth two in the bush" 😀
Related posts
28 Comments »
28 Responses to "copyright violation and the indian treepie"