Posted by Sarah and Roxy Mathew Koll on 22 Jul 2008
This is an account of my visit to Freedom Foundation, an organisation in Secunderabad, where HIV patients and drug addicts are taken care of.
Through talks with Jaya Singh, the project-coordinator, I could learn much about the situations surrounding the organisation and the patients. Freedom Foundation (FF) began in 1993 as a de-addiction centre. But, soon they realised that most of the addicted were HIV cases as well, thus, prompting them to turn their focus on HIV patients. Though Government had been running AIDS pevention and awarness programs from long before, FF was the first organisation that came ahead to take care of the existing patients.
Over there, I got to interact with 25 HIV infected orphans for a few days. Each time, I would wonder how long they are going to survive; how hard it must be for a 13 year old to live with the fact that she is HIV infected, and to know what it means.
We sang, played action songs and colored. A few of their colored greetings are displayed in this article. To wish them on the few birthdays they will be celebrating, check the dates and send your wishes to:
Community Care Centre & Diya Children Home
No: 21, Carriappa Road, Bolarum, Secunderabad -500 010
_____________________________

The first lesson: HIV is not AIDS
Most of the problem revolving around HIV and AIDS related subjects is ignorance or rather, little information. Many of us confuse between HIV and AIDS. Even I had no clear idea until I met them.
HIV- Human Immunodeficiency Virus
This is just the name of the virus. If a person has contracted this virus, he is said to be HIV+ve. Over a period of years, this virus causes AIDS.
AIDS- Acquired immune deficiency syndrome or acquired immunodeficiency syndrome
This is a stage where the HIV has weakened the person's immune system to such an extent that recovery is impossible. Diseases that might seem nothing to a normal child or an adult will become life threatening to a person with AIDS. Death is inevitable in such a case.
This means that a person with HIV can live a normal and healthy life for years before he/she develops AIDS. Unfortunately, the transition to AIDS is accelerated due to the prejudices and discrimination shown towards them.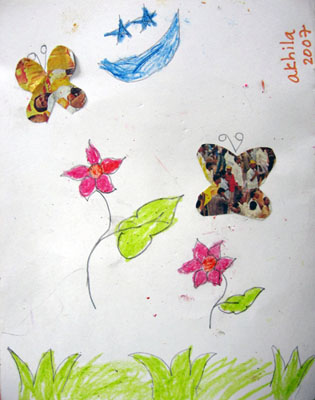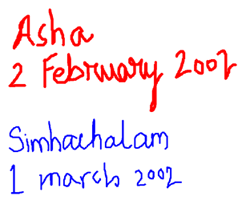 Drawing by Akhila
__________________________________

The first step: by you, by the society
I can call it an eye opener. Mr. Jaya Singh told me that he was involved in AIDS prevention and awareness programs for a few years before he decided to join a place that truly involved in caring for such patients.
The mistake we make is either to discriminate them completely or show them so much of care and concern that they look at themselves as different and feel discriminated!
Though awareness campaigns educate people to a certain extent, it can never bring sensitivity into them. Jaya Singh told pretty blankly to me that even though he is aware of HIV and AIDS and has been handling these cases for few years now, if his own wife is HIV infected, it will naturally occur to him to treat her differently! Also, most of the patients get better not with medicines but social acceptance. Well, let's say about 25% medicines can work, but the rest 75% is a contribution of the society, and his family and environment. That is why, while patients are treated, side by side, they try to counsel the family and get them to a mentality to accept the patient back into their lives as normal human beings. Many HIV patients turn into AIDS patients only because of the social disturbances caused to them.
Probably, the first thing that our country must do is to have all major hospitals establish departments to treat such patients rather than refer them to organizations like Freedom Foundation.
The other part of discrimination is shown in the fact that none of the hospitals accept HIV infected patients. At the time of child delivery, the women are checked for their blood and if they turn out HIV +ve, they are immediately shown the door and taken to organizations that deal with HIV patients. The number of HIV patients is so high that few organizations like these find it impossible to handle them all. Freedom Foundation has a 30 bed facility and 25 orphaned kids, all infected by HIV. They also treat 600-700 outpatients. However, they run on a meagre amount provided by the government which can support only a 10 bed facility.
What could be done is to train them in various fields of self employment and then encourage them by buying their products.
HIV patients have to be economically independent and they have to be shown ways for it by us. Networking a team of HIV patients to work in groups for self employment purposes will help them to build confidence and by and by feel as an accepted part of the society.
Educate all, beginning from the politicians and policy makers to school children.
Politicians so that they don't make mockery of the HIV patients, Policy makers so that they work towards the best interest of such patients and school children so that they are taught from early age of the less-privileged in our society and help them to understand and accept them sooner.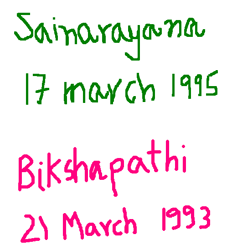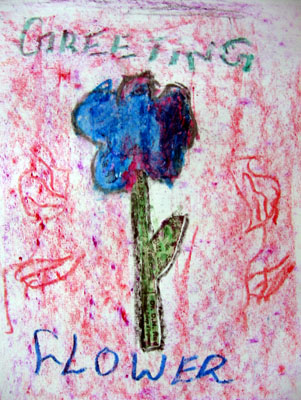 Drawing by Harish
__________________________________________________________

The first help: Selfless heart to understand, Money to care
If we have to live thinking someone else will take care of them, then, let us not read this section.
A surprising fact that came to my light was that the government had been running 'prevention and awareness programs' for years together now. They spend crores over these. While such programs can be effective to a certain extent, statistics still show that the number of HIV infected population is rising. At some point of time, these people will require care and attention. The government seems oblivious of this hard fact. In the case of Freedom Foundation, the government supports financially for a 10 bed facility, but they run a 30 bed facility with 700 outpatients and 25 orphaned kids to take care of. Even innumerable approaches couldn't budge the government to realise that money for patient care is required as much as it is required for the awareness programs. Such organizations are then left at the mercy of corporate individuals. Even for the purpose of awareness programs, the trail of bureaucracy involved takes 6-7 months before the program is put into action.
I asked if any politician visited them so far. Till date only one politician visited them and that too, with the media trailing after him for publicity. He was not let in 'coz he refused to let go off the media. They do not understand the requirement to keep the confidence of these patients by not publicizing them!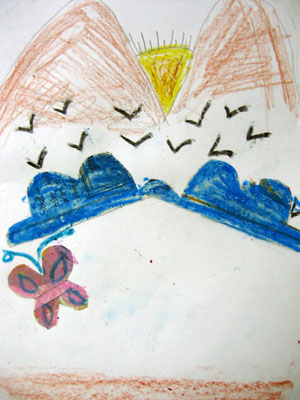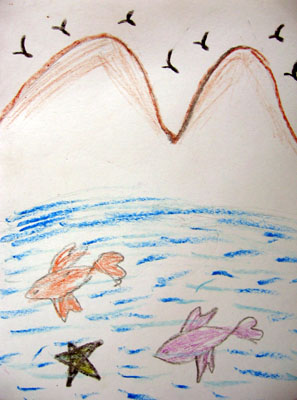 Drawing by Likitha & Chandana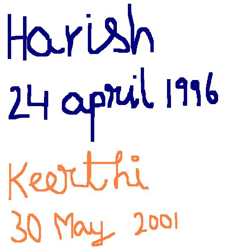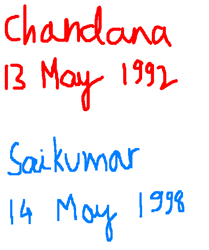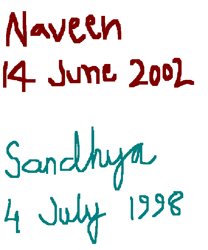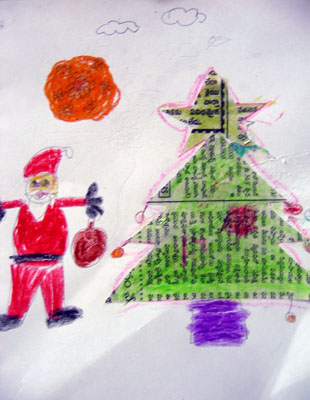 Drawing by Bikshapati
___________________________________________

The first touch: Kids of Freedom Foundation
The rooms were not painted and I felt they deserved a better facility. Jaya Singh assured that a company has volunteered to get the facility painted for them.
I wished to volunteer to teach the kids something for their summer vacations. The gladness in his face was evident. I walked towards the kids' room with him. They were bright young ones with ages ranging from 4- 14 years. He said, as before, it is often the treatment of the society that pushes an HIV patient into developing AIDS sooner. Since children are not aware of their condition, they survive the best as they go about living their life normally. I was asked not to talk about their condition to them. But, when you look at them, they seem no different…just like any other….you forget that they could be the carriers of the worst viruses that human race has seen until now. I had nothing to worry.
HIV cannot spread by touch or sharing things or even dry kissing on cheeks. This virus is not airborne. The virus can pass on through internal body fluids like blood, vaginal fluids or breast milk. If one is careful not to come in contact or in exchange with these, you can lead a normal life with an HIV infected person.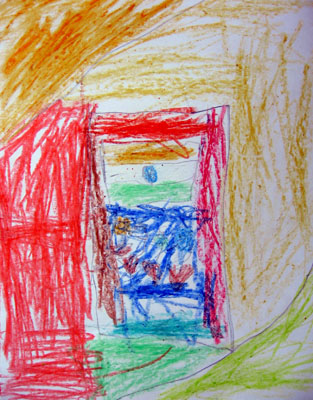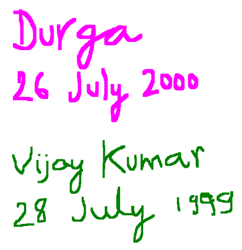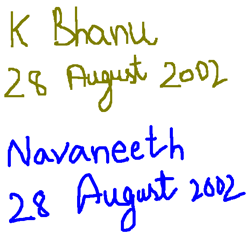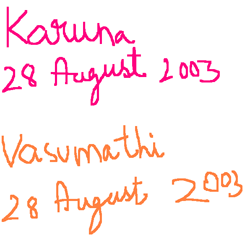 _______________________________

The first true joy: I feel like God
Three days, for a few hours each, I encouraged them to color their thoughts and imagination on paper and songs. Sometimes, I used to wonder, how many of them would live long. We cannot cure them, but we can always make the days that they live a little better by being around these little ones with no one.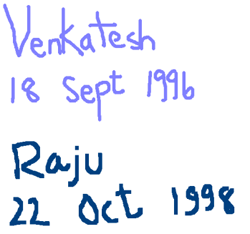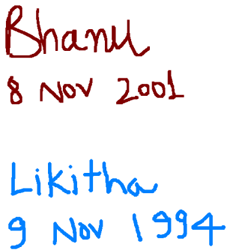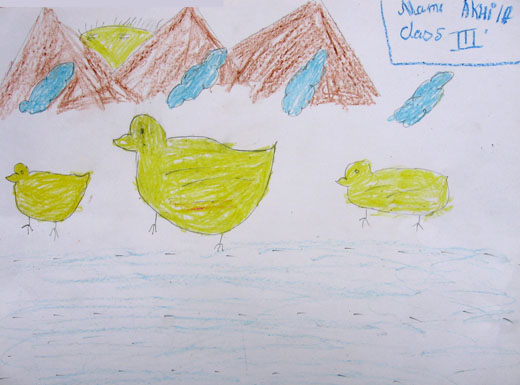 Drawing by Akhila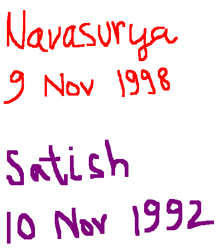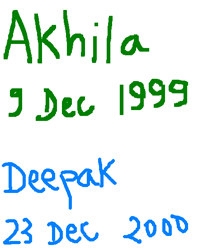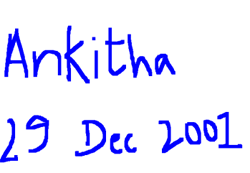 When I reach them and they wait to welcome me, I feel warmth in my heart. When it was time to part, they colored a chart full to gift Roxy and they hovered around me for so long that I had to promise them to return one day.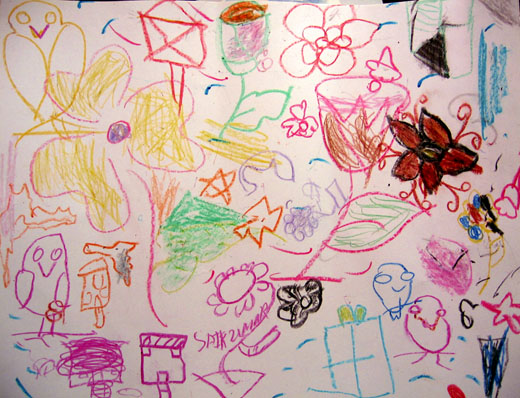 A drawing for Roxy, by all the kids at Freedom Foundation
At the end of it, I felt elated, yet humble to be of service to these children.
Related posts
12 Comments »
12 Responses to "hiv, aids, and kids"